Angela Avellano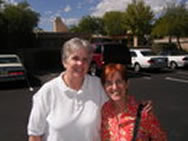 Barbe and Betsy Hurd were visiting Lisl vonSchweintz in England when they met Angela Avellano. She had been a missionary to Spain, had taken time to raise her two sons in England and was looking to the Lord for direction toward sharing the gospel with Spanish speaking people. After listening to her and sensing that her heart was totally given to doing that which the Lord would have her do, Barbe and Betsy invited her to come to Tucson. She spent five years in the Tucson area ministering in Mexico and Tucson. She sang in the choir here and was very helpful in counseling many women. In 2008 she went to Hermosillo, Mexico where she is ministering with the local Christians there. The photo is of Betsy Hurd and Angela.
Her Cell/Home Group is growing with each person seeing the reality of Jesus move in their own personal circumstances.
The Rehabilitation Ministry where she ministers with Arturo and others share many Spanish choruses. After Arturo has preached God uses her in praying for the sick. She has seen the Lord heal lung infections, knee and back problems healed and insomnia healed to name but a few.

Latest Report From Angela
Hello, love you my friends.....Please let me share my heart. SONORA MEXICO....(8 years of ministry here) As 2015 comes to a close I look back at many lives that God brought my way.
He is faithful to His Word and it is an honor to serve Him in Mexico !!
Well I could write a list of healing, testimonies & transformations that I have had the privilege of being a part of, but as we close 2015 God has spoken two words to my heart.. TWO WORDS...so this I want to share....TWO WORDS.
H I S L O V E
I cannot explain it but this is what moves me and thrills me....
Nothing like it as He confirms His love to my heart in so many ways.
HE KNOWS every step I take....Wow.....Proverbs 20:24

HE PROVIDES all my needs emotional and physical Psalm 23:1-3
HE HEALS when I am ill Psalm 103:1
As you can see it is all His Word. It is so powerful .......... I speak and share His Word, He does the rest..... Amen.
Now this last week the enemy of our souls has tried to make me despondent
First I offered my gardening shears to a guy who said he needed them and would bring them back straight away .......he decided to keep them.
Second my house phone decided to stop working.
The last and greatest attack was last night. Someone broke into the car which was parked on the street as Reuben was teaching at "Go English". All the dash board was smashed to steal the car stereo!!.... Well I said
I told the enemy all these are temporal things, the eternal you cannot touch.
My joy! my peace! my faith! my hope! my love! my Jesus!
2015 is almost done and I believe in 2016 we will see worldwide revival ! BLESSINGS AND LOVE ALWAYS FROM MY HEART TO YOURS.
Angela
---
She and we at JBMI do appreciate your continued prayerful support for her! She can be contacted at angela.avellano@gmail.com. or contacrted by phone # 011-52- 662 226 4841.
JBMI is supporting this work in Mexico and any donations for their support will be given in it's entirety to the work. Thanks and God's blessings be yours now and always. - Jim