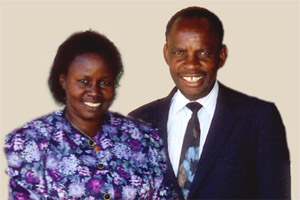 SHANGILIA CHILDREN'S HOME at Vihiga, Kenya, East Africa is a faith ministry that cares for needy destitute children by providing: education, shelter, food, parental care, and spiritual nourishment. ("Shangilia" is a Swahili word meaning "rejoice".) Pastors Kefa and Lonika Kadenge are on-site directors. In addition to Shangilia, Kefa is the pastor of a church two and half hours away; and on Sundays he drives five hours round trip. Lonika is a nurse and she helps when a child is sick. Together they work 24/7. Pastor Francis Ranogwa is the president and founded Shangilia Chrisren's Home in the year 2000.
-------
Here is there report for July 2017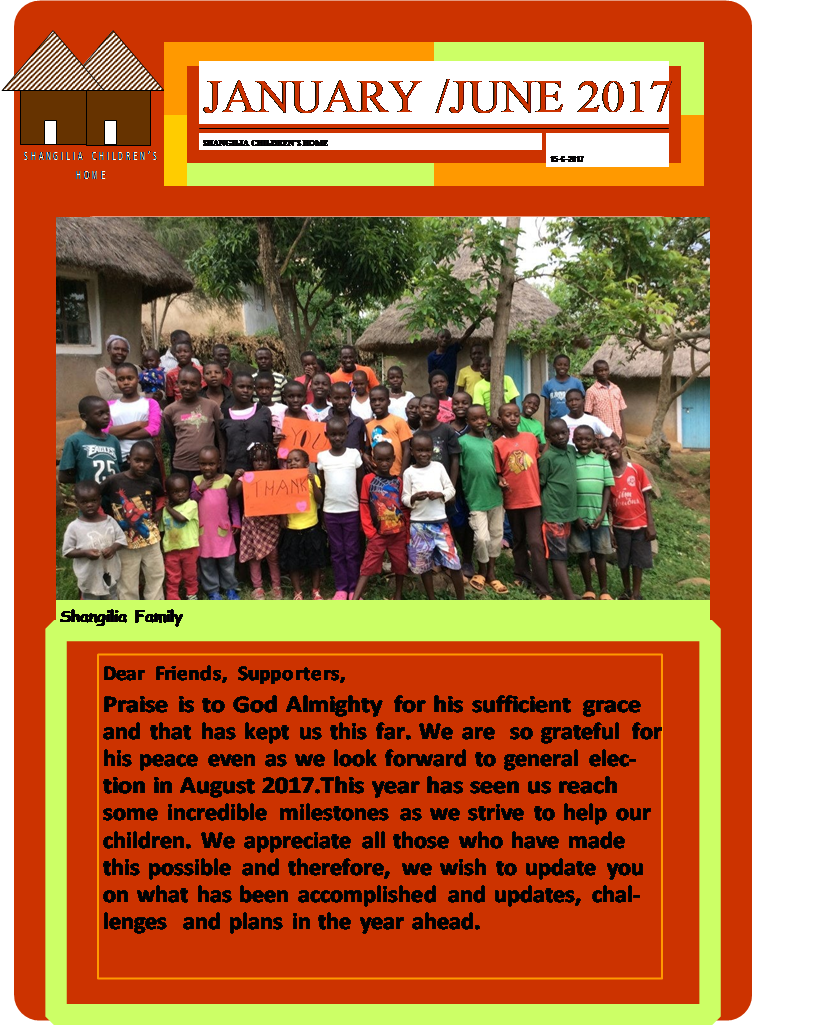 ACCOMPLISHMENTS & HIGHLIGHTS
Education Primary
The children are now in school for the second term until August when they will break for one month. The first term normally begins in January and ends in April. While the third term will start in September and end in October. We have 51 children in primary and kindergarten this year. 32 boys and 19 girls
The government has done some changes on school calendar whereby the first two holiday in April and August are very short while the third is long. It has also discouraged learning during Weekends. These was great news for kids as they are very delighted to be home on weekend for games and entertainment.
High school
This year we have 17 students in high school. 10 boys and 7 girls. Three boys are in boarding school while the rest are in day high schools.
We have two girls in 12 grade and one girl in grade 8 this year. We are very grateful for the constant support for high school student. We have been able to clear school fees for 1st and 2nd term . The third term fees will be due in September 2017. The government has done some changes on school calendar whereby the first two holiday in April and August are very short while the third is long. It has also discouraged learning during Weekends. These was great news for kids as they are very delighted to be home on weekend for games and entertainment.
University/ College
Lillian has now completed her nursing course. She is currently volunteering in a government hospital. Clinton and Elizabeth have completed their third year in university. They are currently on long breaks and industrial attachment until September when their fourth and final year starts.
Juma is getting on well. He will begin his third year in September 2017. Winnie and Lydia are hoping to join in September 2017. Winnie want to study business while Lydia wants to study teaching. Winnie needs about USD 2200 for a year in University while Lydia requires about USD 1200 for 1 year in college.
Talent Show
We have had 5 talent shows since the beginning of this year. It's a monthly event that is done on the last Friday of very month. The children love it! Its entertaining with lots fun. Its an event that provides them with once in a while an opportunity to perform on the stage. Its has help boost their self-esteem and confidence.
Birthdays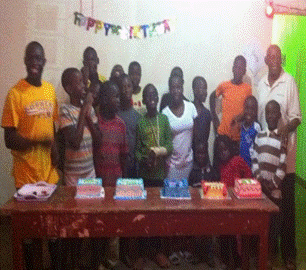 March 31st 2017 was another important day for the kids as they celebrated group birthday for those who were born between January, February and March. It was exciting to have Kefa join the kids in celebrations as he was born in the same period.
We do not know the real birthday of most kids because of their complicated background. However ,we celebrate their admission day in the home as birthday. On a birthday we normally have a great dinner, birthday cakes, candies and sodas. The next birthday will be on 30th June this month.
Birthday Team cutting the cakes
Life Skills Training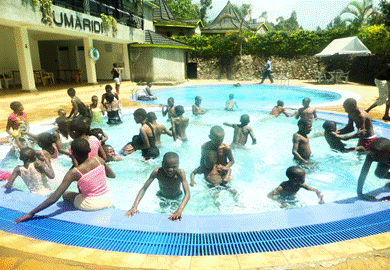 Life skills training is very vital for our kids given the nature of their family background. We normally invite external groups of young people who have grown up in orphanages to come and train out kids about life challenges, behavioral norms ,conflict resolution and encouraging them to live a positive life.
Shangilia Children Swimming
Alex and Nehema's Wedding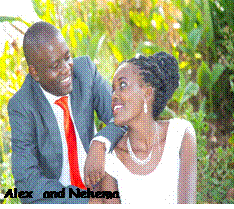 One of the most interesting events early this year was the wedding of Alex and Nehema. They got married on 11th February 2017 .Its was big celebration that brought together the Shangilia family including staff, kids , alumnae and many friends from different parts of the country. The wedding was done in the local Church (Oasis Of Joy Church) and the reception was at Shangilia Children's Home.
New Kid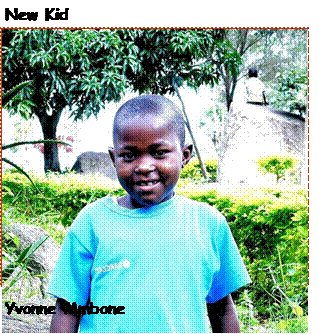 Yvonne Mmbone is the new Kid in Shangilia . She was brought on 18th April 2017. She is seven years old and currently in kindergarten school.
Yvonne is a neglected child. Her father who is very poor was unable to provide for her basic needs leaving her very vulnerable. The children office from the district rescued her and brought her to Shangilia children home for Care and protection.
Yvonne is now getting on very well. She is very happy to be in Shangilia . She is shy but always smiling. She would like to be a teacher when she finish school
Demolition of the Old Boys
One of the old boys house was demolished in May 2017. The house was in poor condition and had became environmental hazard. There is now more space after the demolition and the area is being used for laundry .
Lightening Arresters
We have now installed lightening arresters at the boys and girls dorm. It was necessary to do installing after several incident were reported of lightening attacks in several home near Shangilia.
Three years ago, the lightening stroked our solar systems and destroyed two batteries and charge controllers. The solar panels are still good but the batteries deteriorating. We are supposed to get new batteries and charge controllers to restore the system.
The needs and challenges include:
Third term school fees due in September 2017

The raising in price of food commodities

Sponsorship for college/university for Tyrus, Winnie and Lydia due in September 2017

School fees for ongoing university students; Clinton, Elizabeth and Juma which is also due in september2017

Water

New beddings for children,( mattresses, blankets, mosquito nets ), dinning table and chairs

Future Plans
New dinning hall construction

The girls dorm renovation

New vehicle for Shangilia

Kindergarten school expansion
THANK YOU
We are so grateful to our donors, supporters , the Shangilia Board and staff and all well wishers for great support given to Shangilia that is doing wonderful things to living of the children at the orphanage. Its due to your support we have been able to:
Provide basic needs for the children

support the staff

Pay Tuition for kindergarten, primary , high school and university and school uniform


Happy new year greetings from Shangilia family. We would like to thank you for your support which has enabled us to reach this far. In this new year we hope for more greater things to happen. We wish to update you on some of the accomplishments and our plans for the new year.
1. Accomplishments & Highlights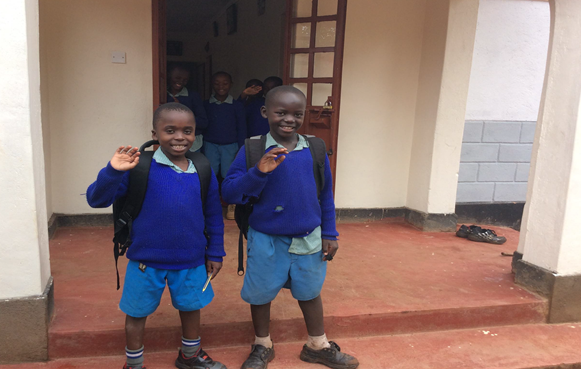 After a long holiday, the schools have just opened. We are very happy that all our kids have moved to the next grade. The month of January is so challenging for us because we have to purchase books, new school uniforms and pay school fees.
Kindergarden School Boys 5 Girls 4
Primary School Boys 26 Girls 14
High School Boys 5 Girls 7
University/College Boys 4 Girls 2
We are very grateful for the partners who are supporting us to do the transition of the children from the orphanage back to the society by supporting their education. Elizabeth and Clinton are doing their second year in university, Juma 1st year and Lillian 3rd year in nursing school . Alex and Geoffrey are in trade school . Learning building work.
Nehema and Harriet have been a blessing to us for sacrificing their time to stay with us for a while to support the staff in serving the children of Shangilia Since 2014 .They are now hoping to join college this year in September .
2. Transformation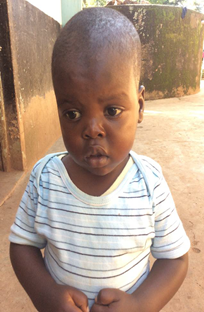 Christian Bahati is about two years old. He was found abandoned on the street and rescued by a good Samaritan. He was taken to the District Children Department who then decided to place him at Shangilia on 13th January 2016 for care and protection.
Like Bahati, abandoned and vulnerable children are faced with many problems such as lack of basic needs, lack parental care, supervision and protection. Hence, resulting to malnutrition.
When Bahati came to Shangilia, he was very quiet ,looked sad and could hardly smile. He also looked weak and hungry. Due to poor health, we took him to the hospital for check up and treatment.
Bahati is now getting on very well. He has so many new friends now at the orphanage who loves him. His health has greatly improved and he is very happy to be in the new home. We are trusting God for a sponsor for Bahati.
3. What's New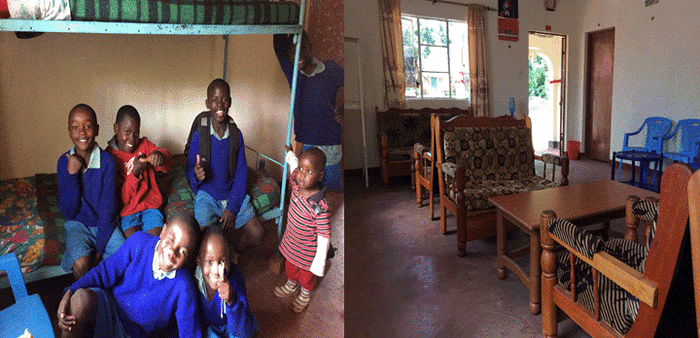 Boys in the new house The meeting Area in the new House
The Boys House was the biggest project for us last year. It started in April up to November 2015. We are very grateful for the Plymouth Covenant Church for their donation. We were able to complete the house in a short time.
On the 1st December 2015, the house was dedicated by Pastor Francis , Kefa and Randy.
The mission team from Plymouth Church led by Randy furnished the house and set up the rooms for the boys to move in.
The boys were very excited to be in a big house. They experienced a transition which came with new responsibilities of keeping it clean and neat by learning how to arrange their shoes, clothes and other personal effect in the right place. They also have more space for studying, fellowship and games.
4. Team/Intern Support
October 2015: Jim and Janice Phillips from USA came in October 2015 for 10 days. They came for the school of ministry and ministered to shangilia staff and Children. They also brought clothes and shoes for the children.
November 29th – December 4th 2015: Randy Stensgard came with a team of 10 people from Plymouth church in Minnesota. They ministered to Shangilia kids and Staff and they also bought furniture and beddings for the new boys house and Christmas gifts for the kids and staff
Mark and Julia - December 2nd to 6th December 2015– Ministering to children.
5. Challenges Needs & Lessons
Water Problem: Due to climatic change our water supply from the down spring has gone low therefore borehole is needed.
Girls House: The girls house needs renovation.
The boy child: The cases of abandoned children especially boys is too high and has resulted for us having more boys than girls.
Staff Support: The support for our staff.
6. The Future
The new Truck– Jim Phillips is raising funds to purchase a new Toyota Hillux for Shangilia.
Bore Hole- Lee Robinson is coming in February 2016 to sink a well
Dinning Hall– We are hoping to have a multipurpose dinning hall where all the kids would be able to take their meals.
7. Thank You
We are so grateful to our donors, supporters , the Shangilia Board and staff and all well wishers for great support given to Shangilia that is doing wonderful things to living of the children at the orphanage. It is due to your support we have been able to:
The basic needs for the children
Monthly support for the staff.

The construction of the Boys House

Tuition for Kindergarten, primary , high school and university

New school uniforms for the children

Christmas gifts and special events
-------
I have known this couple since my first trip to Kenya in 1980 and know their work to be borne of the calling of God upon their lives. They seek to care of the homeless of Kenya.
The orphanage is situated in Chanzoka Village, Idereli sub-location, South Maragoli location, Vihiga district, Western Province, Kenya. They are thirty minutes from Kisumu City on Lake Victoria and two hours from the Ugandan border.
The area where they are located has over 5,000 orphans and needy children. The area has 65% of the people living below the poverty level with a daily wage of about one dollar. Their children come from different tribes where one or both parents have died principally by the AIDS/ HIV virus or malaria. In every case their children have been on the streets and rejected.
The Kadenges donated five acres of land where their home houses 46 children. They share their bedroom with the smaller ones while 26 girls live in two bedrooms with four girls to a bunk bed while the boys stay in a muddy old building. Soon a girls shelter will be finished with eight bedrooms and will house 32 girls. There are other shelters on the property for milk cows, a few chickens and a kitchen.
Each evening the children gather after the meal and have a service where they sing, pray for each other's needs and read the Word of God together. This is where they get their strength. They also have morning devotions for the children.
They have some good people helping their work, 11 helpers and 2 teachers. The cost of living for one child is $30.00 per month while High School Fees are $500.00 per student, per semester.
Do pray about helping in the support of this fine work where the Lord Jesus is honored and the Kenyan children learn that there is more to life than simply wonderfing where your next meal is coming from. All donations are tax deductable but above all the God sees your contributions and will reward you openly.
- Jim Brunner