February 1
Arrows of the Almighty

Archaeology Supports Bible
Archaeology in Israel is constantly proving that the people, places, and events in the Bible are real. The accuracy of Scripture is being confirmed more with each discovery.
Last month, an amazing discovery in Jerusalem again proves that the Word of God is active, living, and absolutely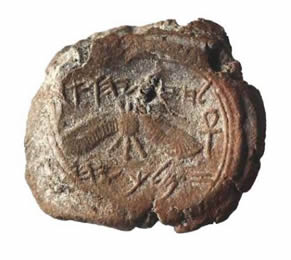 true. A high-ranking government seal was discovered in a four-room structure in Jerusalem on a hillside facing the Western Wall, just 100 meters from the Temple Mount.
The early Hebrew writing on the seal says, "[Belonging] to the governor [sar] of the city" and is dated to the 7th century BC, a time when the First Temple still stood. This seal verifies that this government job existed, just as we are told in 2 Kings, where Joshua is referred to as the governor of the city in the days of Hezekiah. And in 2 Chronicles, we learn that Maaseiah was governor of the city in the days of Josiah.
The restoration of the Jewish People to their land has resulted in 20,000 recognized archaeological dig sites throughout Israel. The Israel Antiquities Authority (IAA) is in charge of the country's archaeological sites, their excavations, and the Biblical Homeland's antiquity treasures. About three hundred of those sites are actively being excavated today. In these digs, archaeologists are documenting and confirming that people, places, and events described in the Bible are true!