February 1
Arrows of the Almighty

Jesus says, "Come to me, all who labor and are heavy laden, and I will give you rest. Take my yoke upon you, and learn from me; for I am gentle and lowly in heart, and you will find rest for your souls. For my yoke is easy, and my burden is light" (Matthew 11:28-30 RSV).
Understand that a yoke is one piece of wood with two arches on each end linking two oxen together as they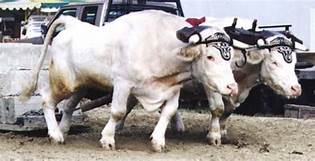 together pull the burden they carry. Yes, when yoked they pull burdens together.
The value of a yoke is that it halves the load. Without a yoke, the load is simply too heavy and burdensome for one ox. When yoked together burdens become lighter and handable. The load is half as heavy when the oxen are yoked.
When Jesus says to take His yoke upon you, he's not saying he's going to give you His problems. The only task Jesus has is working your salvation and that you can only receive from Him. Here, He is asking the believer to realize that He is taking up your burdens and walking along side sharing your stress and burden upon Himself bearing it with you! Wow!
He uses three notable verbs in this Scripture: come, learn, and take. Jesus says, "Come to me. Team up with me. Then, learn how I do it. Take on a lighter load. This is going to reduce your stress. This is going to make it easier for you to navigate."
When you're yoked with Christ, you move together with Him. You move in the same direction and at the same speed which of course is the right direction and at the right speed. Through this process of living with Him and by His Strength, the believer grows into His likeness and becoming more and more like Him in spirit and deed!