June 1
Arrows of the Almighty

Praying For An Unbeliever
"For the Son of Man has come to seek and to save that which was lost" (Luke 19:10 NASB).
Today most people that in someway you have to earn your way to Heaven. When asked you would hear them say that their good things had to outweigh the bad or something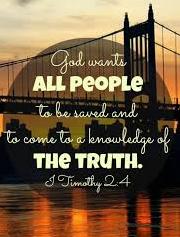 similar
- that's works and not grace.
Romans 3:24 says, "All need to be made right with God by his grace, which is a free gift. They need to be made free from sin through Jesus Christ" (NCV). God says that salvation is absolutely free to receive! You don't work for a gift, and you can't earn it or buy it.
Every other belief system around the world is based on doing something. You do certain things and gain the approval of God. On the other hand, you can summarize the Christian Faith in one word: "done." Jesus Christ paid for our salvation on the cross, and now He offers His grace as a free gift. That's why Jesus stretched our His arms on the cross and cried, "It is finished!"The provision for your salvation is finished! You cannot add to it nor take from it. It's done!
We all have family members and friends who do not have a saving relationship with Jesus. Jesus "wants all people to be saved and to come to a knowledge of the truth" (1 Timothy 2:4 CEB), so when we pray for the salvation of an unsaved person, we are doing what pleases God. God's love reaches everywhere and everyone. His power is limitless, and his forgiveness is endless. Your prayers for those who do not know the hope you have in Christ do not go unheard. Keep on praying, and don't lose heart. They will be drawn into the Kingdom because you prayed!