Antisemitism
This past Saturday morning, Robert Bowers entered Tree of Life synagogue in the Squirrel Hill neighborhood of Pittsburgh killing 11 people during their Shabbat services including two brothers, a married couple in their 80's, and a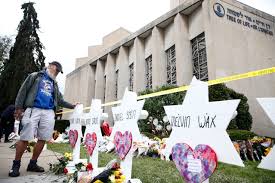 97-year old woman. Police shot and captured him before he could do more carnage.
What's believed to be the deadliest attack on worshipping Jews in American history is only the most recent, and most extreme, example of the increasing anti-Semitism in the United States. Most incidents include things like bullying on social media and vandalism, defacing Jewish institutions with swastikas. Yesterday, Breakpoint reported that anti-Semitic poison currently rampant on Twitter, Facebook, and especially social media sites like Gab, is now finding its way into mainstream discourse and has inspired violence.
Christians cannot keep silent on this matter. We must oppose this vile evil ideology wherever and whenever we come across it. Yes, God did make a special arrangement with Abraham launching His plan of redemption that through Israel, "all nations on earth will be blessed" (Gen. 22:18). This, we believe, God did through Jesus Christ, who was, as the Scriptures make abundantly clear, thoroughly Jewish. As Francis Schaeffer wrote "...we should keep constantly in our minds that our Lord Himself was a Jew - born a Jew, lived a Jew, died a Jew." And Jesus remains a Jew, fully God and fully man. His resurrection did not remove His Jewishness. Francis Schaeffer's little poem says it well,
"How odd of God to choose the Jew,

But not so odd as those who choose

The Jewish God and hate the Jew."