December 1
Arrows of the Almighty

An Unseen Hero
"Likewise, the Spirit also helps in our weaknesses. For we do not know what we should pray for as we ought, but the Spirit Himself makes intercession for us with groanings which cannot be uttered." (Romans 8:26)
We try so hard to be self-sufficient. Although we delight in helping others out of our strength, it takes a giant swallow of our pride to accept help. We avoid feelings of brokenness and dependence. We would rather struggle for months on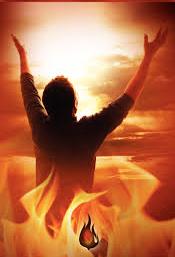 end before admitting we need help. This tendency stunts our growth because it rejects the help and power God has provided.
Although unseen, the Holy Spirit is the invisible hero dwelling within us. God knows our weakness and provided the Holy Spirit to guide, strengthen, and sustain us. The Spirit comes to our rescue time and again. We are loved and our weakness is never mocked. When God calls us, we can rest assured that the Holy Spirit will equip us through His insight and power. The evidence is clear in both the life of Christ and the lives of His followers.
Pray in and with the Spirit, in your native language and in the language of unknown tongues, give the Spirit of God full reign to pray in and through you for the good and blessing of all. It's God's gift to pray - do it each and every day of your life. You can release the very will of God!
All we have to do is listen and follow. Such obedience will always bring glory to God through Jesus Christ, the righteous.