God Shining Through
Our local Tucson Daily Star ran this story about one of the University of Arizona students who graduated on Friday, May 12, a former homeless man. "That day Albert Alan dined on haute cuisine with the UA's president before collecting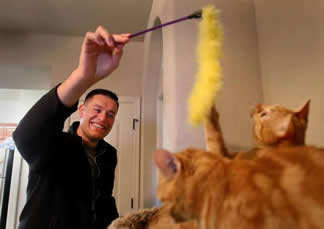 three undergraduate degrees he earned against the odds. He received a Robert Logan Nugent Award for exceptional achievement, receiving bachelor's degrees he earned simultaneously in physiology, sociology, and neuroscience and cognitive science.
And this summer, he starts classes at the UA medical school, where he hopes to become a physician who specializes in caring for Tucson's street people.
"He says he took to the streets as a teenager to escape an abusive home life. He survived for three years by sleeping on the ground outside a library, showering in his high school gym, eating leftovers from the school cafeteria and washing his clothes under an outdoor spigot at a 7-Eleven store.
He received help from people who befriended him and got accepted at the UA.
"Alan's story, and his plans for the future, have won him fans around the city, from UA President Ann Weaver Hart, who calls him "an inspiration," to the residents of the local Gospel Rescue Mission's homeless men's shelter, where Alan volunteers delivering donated produce to the kitchen. "The guys love to see him coming. When they see his truck, they rush out to meet him," says John Jones, the shelter's kitchen supervisor.
"He doesn't hide that he was homeless, and when he shares his story, it comes from the heart," says Jones. "It's great to know that someone who came from where he comes from is doing what he's doing. To me, it's like God is shining through him."
Yes, "the Lord sees every heart and knows every plan and thought." (1 Chronicles 28:9) God has put talent and skills in every life. Develop yours, He will bless.