You Must Be "Born Again!"
Barbe and I have gotten interested in Jeopardy on TV since this guy, James Holzhauer, became a contestant. In just over twelve shows he has won over $1,300.000.00! It's a game show started in 1964 and hosted by Alex Trebek where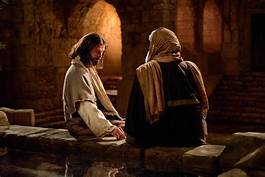 the contestants are given an answer while they have to come up with the corresponding question to win.
The show's format reminds me of a conversation between Jesus and Nicodemus, one of the ruling Jewish leaders, which ends up being a session of questions and answers. Their conversation centers on one key question that Nicodemus, an esteemed religious teacher, could not answer: "How can someone be born when they are old?" (John 3:4)
Nicodemus was right. Physically, such a thing is impossible. But Jesus was pushing Nicodemus to understand deep spiritual truth. To enter the Kingdom of God, you must be "born again" into that heavenly realm (v.12) Jesus came to reveal and open this kingdom to all who believe. John 3:16, the most well-known verse in the Bible appears in the context of this conversation. God loves us all, Nicodemus, you and me. That love was manifested through the gift of God's "one and only Son." Through the gift of Jesus, God has provided a way of salvation. Whoever believed in Jesus will be "born again;" they will not perish but receive eternal life. We are born again spiritually and resurrected bodily at Christ's second coming.
In John 19:38-42 we see Nicodemus again but this time to bury Jesus and to wrap His body in cloth saturated with myrrh and aloe. What Jesus had explained to Nicodemus had now come true. God's love had provided a way for Nicodemus and for us to be "born again." Are you? Your answer to win can not be measured in dollars since all eternity is at stake!