Jesus in the Fiery Furnace
Daniel 3 depicts one of the most exciting pictures in the Old Testament. Three Jewish men, Shadrach, Meshach and Abednego, were thrown into a furnace of fire because they would not bow before the idol of the Babylonian king nor would they worship Him. King Nebuchadnezzar was livid with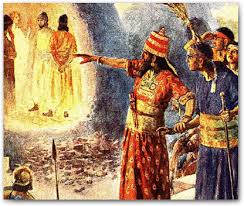 angry at them throwing them into his fiery furnace. Then he was astonished that his own men, who had put this trio in the furnace, perished in the fire, while the three offenders did not. Verse 24 records that the king
"declared to his counselors, "Did we not cast three men bound into the fire?"They answered and said to the king, "True, O king." "Look! he answered, "I see four men loose, walking in the midst of the fire, and they are not hurt; and the form of the fourth is like the Son of God"
(Dan. 3:24-25).
The fourth man had the form of the Son of God - who else but the Lord Jesus Himself! As someone said, "Because Jesus was there those three children of Abraham would not bend, they would not bow, and they would not burn!"
Yes, here in this Old Testament book of Daniel Jesus appears protecting three totally committed children of Abraham. Jesus not only purchased our eternal salvation He will also protect His own and lead them on in the righteousness and peace of the Father.